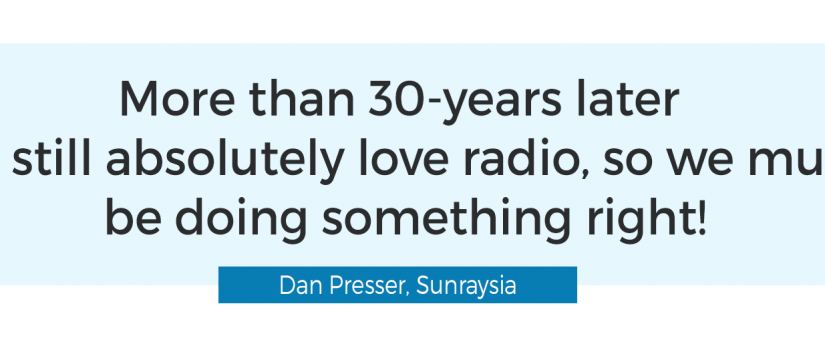 On November 28, 2017
393, Dan Presser, How to create radio ads that cut through and sell, marketing podcast, tim reid, Why you need a welcome email
Never miss another episode. Subscribe FREE on iTunes or Android.
Today we're joined by radio advertising legend Dan Presser. Famous for his much discussed radio campaigns for Sunraysia Natural Prune Juice and Blue Banner Pickled Onions, Dan has been kind enough to share his insights and experience into how to create radio ads that cut through and sell. If you've ever wondered if radio advertising works, and if it does, how it works, then you're in for an absolute treat. I'll also show you how to make a great first impression with your new clients.
"The success of Sunraysia Prune Juice is a 100% the result of our radio advertising "
-Dan Presser
Sunraysia Prune Juice
There's loads more tips and insights just like this that will help you build that beautiful business of yours into the empire it deserves to be. Hit the PLAY button or subscribe free to hear the full interview. You'll also find the full interview transcription below.
If you have questions about how to create radio ads that cut through and sell then you'll get the answers in this interview as Dan Presser goes deep into his love of radio:
Why choose radio instead of TV or newspapers?

What makes a great radio ad?

How do you measure the success of radio advertising?

How much should you spend on radio advertising?

How do you come up with ideas for radio ads?

Why do radio ads work?

Why is talk back radio so powerful?
Dan Presser is the Executive Chairman of the Sunraysia Natural Beverage Company, and the owner of the iconic Australian brand, Rosella. He's also the creative engine behind the writing, production and reading of the much discussed radio ads for Sunraysia Natural Prune Juice and Blue Banner Pickled Onions.

Here's what caught my attention from my chat with Dan Presser:
Radio advertising works best when you create ads with cut through.




They clearly don't have to be the fanciest ads going around, with huge production budgets … they just need to stand out in a very crowded market place. A great lesson for any marketing message, really!

Don't take negative feedback to heart. Maybe even welcome it if you've got a thick enough skin! Dan could have easily got his back up with what John Laws and Ray Hadley had to say; but instead, he embraced it.

Consider putting yourself in your business's advertising. I can cite numerous examples of legendary TV and radio campaigns fronted by business owners, starting way back in 1979 with Victor Kyam's Remington TV commercial.
Resources mentioned in this episode:
But the marketing gold doesn't stop there, in this episode you'll also discover:

Please support these businesses who make this show possible:
Prospa is Australia's #1 online lender to small businesses. You can quickly apply online for loans up to $250,000, get a fast decision and in most cases receive the funding in under 24 hours. Call 1300 882 867.
And you gotta love it when your business expenses reward you! When you apply for an American Express Business Explorer Credit Card by November 30, and spend $3,000 in the first three months from the Card approval date, you'll receive a bonus one hundred thousand Membership Rewards Points.
If some thing in this episode of Australia's favourite marketing podcast peaked your interest, then let me know by leaving a comment below.
This post was provided by marketing speaker Tim Reid who is the host of The Small Business Big Marketing Show, Australia's #1 marketing podcast, also heard on Virgin Airlines. Subscribe FREE on iTunes or Android.