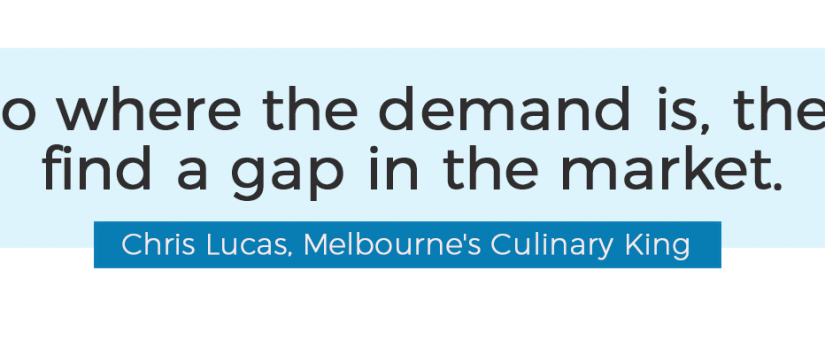 On September 19, 2017
382, Chin Chin, Chris Lucas, How to promote a restaurant, marketing podcast, SBBM, The Lucas Group, tim reid, Where to look for fresh new marketing ideas
Never miss another episode. Subscribe FREE on iTunes or Android.
In episode 382 Melbourne's culinary king, Chris Lucas, takes us behind-the-scenes of how he's successfully built and promoted some of Australia's most exciting and interesting dining experiences. This is for anyone (not just restaurateurs) wanting to build a business that stands out from the crowd.
"I don't get intellectually interested in what other people have done … my idea is about capturing what I think is right, and try to be creative and do something different. We've established a set of brands that do that, that are about being innovative and that create a level of excitement, and as a result, a lot of excitement. That's what I think we should all be interested in."
–  Chris Lucas, The Lucas Group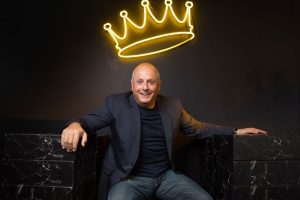 There's loads more tips and insights just like this that will help you build that beautiful business of yours into the empire it deserves to be. Hit the PLAY button or subscribe free to hear the full interview. You'll also find the full interview transcription below.
If you have questions about how to grow and market your business successfully then you'll get this answers in this interview:
How do I find a gap in the market place?
Why shouldn't I just copy my competitors?
How do I innovate in my business?
Why & how should I challenge the conventions of my industry?
How do I come up with a business model relevant to today's customers?
Where and how do I look for opportunities?
Chris's successes in starting and promoting restaurants is amazing. As well as the super-successful Chin Chin, he has a stable of some of Melbourne's most popular eateries: Baby Pizza and Japanese/Korean-inspired Kong BBQ in Richmond, as well as Hawker Hall, a food and beer hall in Windsor, where the hip and the hungry queue to get in. And he's recently opened Kisume, an upmarket Japanese Korean dining experience.

Here's what caught my attention from my chat with Chris Lucas:
Go where the demand is and find a gap in the market … learn to see opportunities where others don't. In doing so, avoid doing 'me too'. As Chris said, "doing me-too doesn't intellectually interest him!"
Come up with a product and business model more relevant to today's customer. Sometimes we do things just because that's how everyone does them … maybe it's time to break a few rules and do things differently? Innovate and constantly evolve your business model.
Look for fun places to take your clients, suppliers and staff. This is not something Chris and I spoke about, but that chat reminded me of an idea I shared in a past episode, where I suggested us business owners should never eat alone; or, at least once a week we should get out of the office and have a business lunch with someone. I'm catching up with an overseas listener for dinner tonight!
But the marketing gold doesn't stop there, also in this episode:
Other resources mentioned:
Today's listen question came from Erin Miller Massage
Thank-you to photographer Simon Schluter for the amazing photo of Chris Lucas
Please support these businesses who make this show possible:
Open Universities Australia – Check out Open Universities' online courses for business owners over at Open.edu.au. Someone's gotta be the smartest in your industry – it may as well be you!
Dale Beaumont's 52 Ways – An amazing free 1-day live event for business owners where you'll discover 52 ways to boost your business profits. 2018 dates announced. Seats are limited. Book now.
If some thing in this episode of Australia's favourite marketing podcast peaked your interest, then let me know. Leave your thoughts below.
This post was provided by marketing speaker Tim Reid who is the host of The Small Business Big Marketing Show, Australia's #1 marketing podcast, also heard on Virgin Airlines. Subscribe FREE on iTunes or Android.