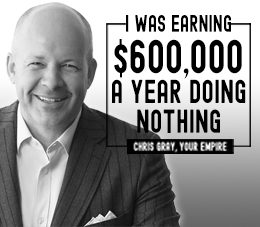 On March 22, 2018
409, chris gray, How to work smarter not harder, marketing podcast, Marketing tips, SBBM, tim reid, your empire
Chris Gray owns Your Empire, a property buyer's agent for the well-healed. After spending the early part of his career working for a global accounting form, he finally made the break to run his own business at the age of 31, when he retired from working for the man, and started to invest in real estate. Before long he started reaping the rewards of those smart money decisions and has never looked back. He's built a $15M property portfolio of his own, works only a few hours a day, travels the world (for free) often and has pretty much worked out how to work smart, not hard. Plus in episode 409 of your favourite marketing podcast, you'll discover why too much content is not a great idea, more listeners win big in the Monster Prize Draw, and we check in with Tom O'Toole (Australia's favourite baker) who's embarking on one crazy road trip!
"If you go out for coffee with someone for an hour, you build a certain relationship. You go and spend four hours playing golf with them, you build an even better relationship and you breakdown a lot of barriers. You go drinking for 10 to 12 hours on my boat and you break down a lot of barriers!"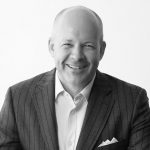 -Chris Gray,
Your Empire
There's loads more tips and insights just like this that will help you build that beautiful business of yours into the empire it deserves to be. Hit the PLAY button above to listen now, or subscribe free to hear the full interview.
If you have questions about working smarter and not harder, then you'll get this answers in this interview, including:
Where did the idea for Your Empire come from?
How to network effectively?
How to make staff love working for you?
How to fly free in the pointy end of the plane?
Why and how to make marketing fun?
And plenty more …

A little bit more about today's guest
Chris Gray started investing in property at the age of 22. He retired from full time work as an accountant at Deloitte at 31. Now 46, Chris has  $15m+ of property in his personal portfolio; and runs Your Empire, a buyers agency that builds property portfolios for time-poor professionals, just like he did for himself. Your Empire buys 1-2 properties a week, and spends up to $5m a year on renovations for its clients. Chris also hosts the Smart Investing show on Sky News. He travel overseas 10-15 times a year, and is into car racing, motor yachts and flying choppers.


Here's what caught my attention from my chat with Your Empire's Chris Gray:
I love Chris's approach to networking where in a room of 100 prospects he'd prefer two deep conversations than 98 shallow ones.
Chris is the master seeder … constantly inserting (quite subtley) points about his business into the conversation.
I think we all need to get out and smell the roses more often. Get an Amex card!

But the marketing gold doesn't stop there, in this episode you'll also discover:
Australia's most famous baker Tom O'Toole is heading of on possibly the craziest road trip ever
Melbourne SEO Services Dave Jenyns explains why having mountains of content on your website may not be best practice
I give away more prizes in the SBBM Monster Prize Draw

Resources mentioned:

Please support these businesses who make The Small Business Big Marketing Show possible:
DesignCrowd is the world's #1 custom design marketplace where, with access to 550,000 designers, you'll get the perfect design every time. Get $100 off your DesignCrowd brief here.

American Express Business Explorer Credit Card … it's the credit card that ensures your business expenses reward you. Search Amex Business.
Prospa is Australia's #1 online lender to small businesses. You can quickly apply online for loans up to $250,000, get a fast decision and in most cases receive the funding in under 24 hours. Call 1300 882 867.
If something in this episode of Australia's favourite marketing podcast peaked your interest, then let me know by leaving a comment below.
This post was provided by marketing speaker Tim Reid who is the host of The Small Business Big Marketing Show, Australia's #1 marketing podcast, also heard on Virgin Airlines. Subscribe FREE on iTunes or Android