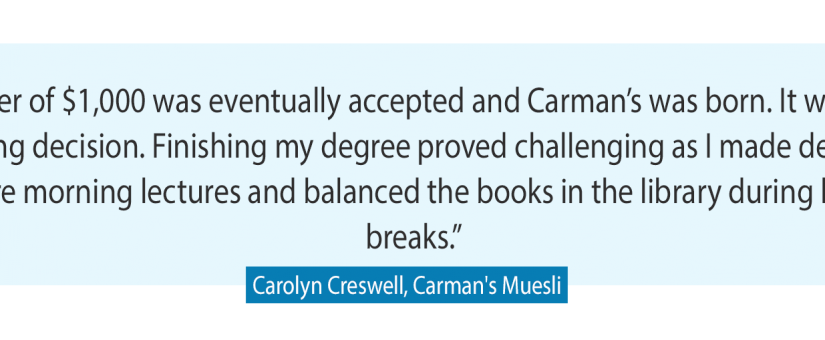 On June 14, 2018
carmans mueli, carolyn creswell, marketing podcast, Marketing tips, Small Business Big Marketing, tim reid
Carman's Muesli founder Carolyn Creswell is on a mission to create a hugely successful brand, in  Australia's most cutting-edge workplace, whilst maintaining an enviable work / life balance for herself … and her staff. In this incredibly generous chat, Carolyn talks about how she's turned Carman's into a household name, the importance of creating a workplace people love coming to, how she gets the most from her staff and the role branding has played creating strong awareness in a crowded marketplace.
There's loads more tips and insights just like this that will help you build that beautiful business of yours into the empire it deserves to be. Hit the PLAY button above to listen now, or subscribe free to hear the full interview. 
"So many people believe that Carman's has been an overnight success. The reality is that we've been chipping away at this labour of love for well over 20 years now. I was only 18 when my business journey began – buying the tiny muesli business for only $1,000."
– Carolyn Creswell,
Carman's Muesli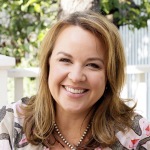 If you have questions about how to grow and market a successful business whilst maintaining a great work / life balance then you'll get this answers in this interview, including:
How did Carman's Muesli start?

What move lead to the business really taking off?

How did Carman's Muesli become a household name?

How do you create a workplace staff love coming to?

What's the secret to a good work / life balance?

How do you maintain such strong brand consistency?

And plenty more …
A little more about today's guest, Carolyn Creswell of Carman's Muesli:
Carolyn Creswell who (in 1992) founded Carman's Muesli, which is today a household brand in Australia with 82 SKUs available in over 5,000 outlets, 35 staff and an annual turnover in excess of $100 million. It also exports to 32 countries. Carolyn is mother to four kids under 13, and is reported by the BRW Rich List to have a personal wealth of $57M. She's incredibly generous in this chat revealing how she's built such a successful business whilst retaining an enviable work / life balance, how she attracts and retains great staff, why she's on a mission to build Australia's most cutting-edge workplace … and a whole lot more.

Here's what caught my attention from my chat with Carolyn Creswell from Carman's Muesli:
I love the fact that she wrote to every person in Australia with the surname Carman.

I love how she gracefully says no to a lot of opportunities.

I love her disdain for meetings. Should be more of it!
But the marketing gold doesn't stop there, in this episode:
Another motivated listener wins in this week's Monster Prize Draw
Resources mentioned:
This week's winner of the Monster Prize Draw is:
Jingle of the Week – Gillette's 'The Best a Man Can Get"
Please support American Express who make this show possible:
American Express Business Explorer Credit Card
Let your business expenses reward you. Every year.
If something in this episode of Australia's favourite marketing podcast peaked your interest, then let me know by leaving a comment below.
May your marketing be the best marketing.
This post was provided by marketing speaker Tim Reid who is the host of The Small Business Big Marketing Show, Australia's #1 marketing podcast, also heard on Virgin Airlines. Subscribe FREE on iTunes or Android