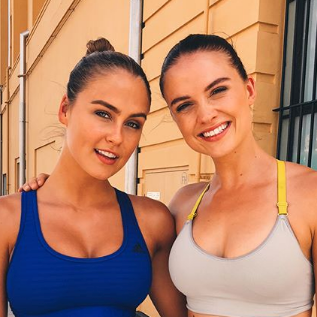 On April 26, 2018
414, Instagram for business, Keep it Cleaner, Laura Henshaw, marketing podcast, Marketing tips, SBBM, Stephanie Claire-Smith, tim reid
Everytime I see someone with a huge following on Instagram (or any social media for that matter) I'm like … How did they get that many followers? And how are they making money from it? Well, wonder no more, Timbo! Because today's guests, Stephanie Claire-Smith and Laura Henshaw, have a combined Instagram following of over 1.3 million people, which they've turned in to multiple revenue streams – everything from an eBook to a health food brand with 21 products to Bikinis! Keen to know how they've done it? I certainly am!

Laura Henshaw and Stephanie Claire-Smith Facebook Live Video
Behind-the-scenes with social influencer superstars Steph Claire-Smith and Laura Henshaw of @KICgirls. Interview for The Small Business Big Marketing Show.

Posted by Tim Reid on Tuesday, 10 April 2018
"On social media, people want to see the real you. I think one of the reasons our business is so successful is that we post relatable material. We don't just post glossy, polished stuff. The more relatable and real it is, the more accessible we become."
-Laura Henshaw,
Keep It Cleaner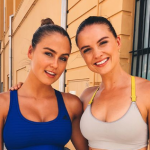 There's loads more tips and insights just like this that will help you build that beautiful business of yours into the empire it deserves to be. Hit the PLAY button above to listen now, or subscribe free to hear the full interview. You'll also find the full interview transcription below.
If you have questions about how to use Instagram to market your business, then you'll get this answers in this interview, including:
Why Instagram and not Facebook?

How do you get started on Instagram?

How do you interact with your Followers?

What makes a successful Instagram account?

What's the best way to increase your Instagram Followers?

What posts work best on Instagram?

And plenty more …
A big thank-you to my personal trainer Danny Kennedy for introducing me to Stephanie Claire-Smith and Laura Henshaw … two 24-year old Melbourne-based entrepreneurs who have built some significant businesses and revenue streams from their Instagram fame.
Stephanie has 1.3M followers and Laura (a part-time Law student) has 160,000.
Together, they've created the Kick Girls brand which includes a hugely successful online training program for young women. Along with the the Keep It Cleaner range of health food products available in supermarkets nationally.
On top of that, Stephanie has launched a bikini brand called Midnight Co and a Sunglasses brand called Soda Shades, and is also an ambassador for Clinique and Bondi Sands.
If you've ever wondered how to grow and monetise a social media following then you're going to love this chat.
Here's what caught my attention from my chat with Keep It Cleaner's Stephanie Claire-Smith & Laura Henshaw:
Focus on engagement, not Followers. And it would seem the best way to do this is follow the theory of TELL don't SELL.

I loved how … when they realised their followers wanted more of them … they created and sold a simple eBook – despite the fact that included a photo of some slimy banana bread!

I love how they are crystal clear on their brand and what it stands for. It was a pretty gutsy move for Stephanie to say "No' to that Diet Tea brand given the amount of coin they were offering for a simple post … however, taking a long-term view there is no doubt that was the right decision.
But the marketing gold doesn't stop there, in this episode you'll also discover:
Two more lucky listeners share what marketing is working for them, and in return I give them a prize or two

Resources mentioned:
Keep It Cleaner official website

Danny Kennedy personal trainer
Please support American Express who make this show possible:
American Express Business Explorer Credit Card … it's the credit card that ensures your business expenses reward you. Search Amex Business.

If something in this episode of Australia's favourite marketing podcast peaked your interest, then let me know by leaving a comment below.
This post was provided by marketing speaker Tim Reid who is the host of The Small Business Big Marketing Show, Australia's #1 marketing podcast, also heard on Virgin Airlines. Subscribe FREE on iTunes or Android